It's now 7 weeks since we closed our doors and I bet you're considering reaching for the kitchen scissors to trim those wispy ends.
It's certainly not ideal to cut your own hair but again we are in drastic times and you are probably in need of a little help.
So lets go through a few tips….
First of all – what scissors NOT to use!!
Kitchen – Nail – Blunt !! These can all cause your hair to split.
If you look on line for professional hairdressing scissors you will be able to pick up a pair for a reasonable price. It's certainly worth paying that little bit extra as they will last forever if you look after them.
The dos and don'ts of trimming a fringe
A fringe is a feature point of any hairstyle, so you must be super cautious when trimming it.
Before you even think of cutting your hair you must wash and dry first. Blow-dry your fringe flat, brushing side to side to flatten out any waves/kinks. Your hair becomes very stretchy when wet so if you cut whilst wet you run the risk of a very short fringe.
The safest way to cut a fringe is to take a triangular section in the middle of the fringe, in between your brows. You can then lift the hair directly upwards with a comb and cut little Vs into it with the point of your scissors. Never cut across in a straight blunt line.
If you want a fuller fringe take the triangle section wider but never cut further than the end of your eyebrows' as you have the risk of cutting into your actual haircut.
What to do when you have a pixie cut
Super short hair is extremely difficult to cut and you're probably cut your ear rather than your hair! I would rather recommend disguising your growth rather than cutting it. Think of changing your parting to a side swept look or tuck those sides behind your ears for a sleek back look. Try some texturizing spray to give those heavy layers a lift. If your hair is in the 'in-between' stage try some pretty clips to keep that hair away from your face.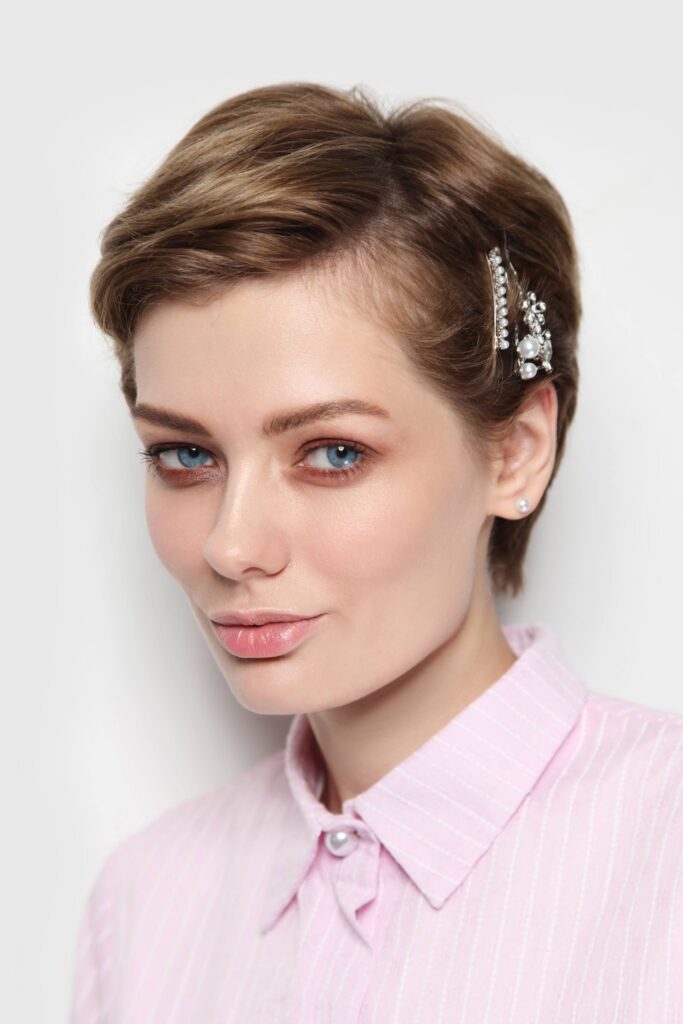 What to do when your hair looks scruffy
If you have shoulder length hair it might start to look a little 'heavy' by now. Please please do NOT cut those layers, it will be like a puzzle to put back together! As an alternative to cutting try being a little creative to see you through. Check out those Youtube videos on high ponytails messy buns or braids